The full summary spoilers for One Piece chapter 1098 were released on Tuesday, November 7, 2023. With them, the summary spoilers brought an exciting and early inside look at the upcoming issue's events. Fans got some exciting answers to questions that have pervaded them throughout the course of Kuma's flashback, especially those related to Jewelry Bonney.
One Piece chapter 1098's full summary spoilers also seemingly reveal what Ginny's ultimate fate is, which is one of the most tragic in the entire series thus far. Interestingly, the chapter also has some real-world implications, possibly foreshadowing a long-term hiatus from series author and illustrator Eiichiro Oda in the near future.
---
One Piece chapter 1098 full summary spoilers reveal Bonney's shocking and unexpected origins
One Piece chapter 1098's full summary spoilers begin by detailing the cover page, which features Brook. This is particularly relevant, as Brook's pants feature a message from Oda in which he apologizes for not being able to finish drawing in time. Likewise, the full summary spoilers warn fans that some of the panels are only sketches and that many pages are not fully completed.
Diving into the story content, it's revealed that Ginny was kidnapped and becomes the wife of a Celestial Dragon who is unseen in this issue. It's revealed that Ginny's entire Revolutionary Army unit was annihilated in a surprise attack from the World Government. After her kidnapping, it's revealed that the Army became more violent and much more intense in their battles.
One Piece chapter 1098 then shows the Revolutionary Army picking up people from the Goa Kingdom, after which Kuma teleports to another island to help more rebels. It's revealed that Kuma ended the battle on this other island all by himself. The issue then shockingly reveals that Jewelry Bonney is the child born from Ginny and the Celestial Dragon she was forced to marry.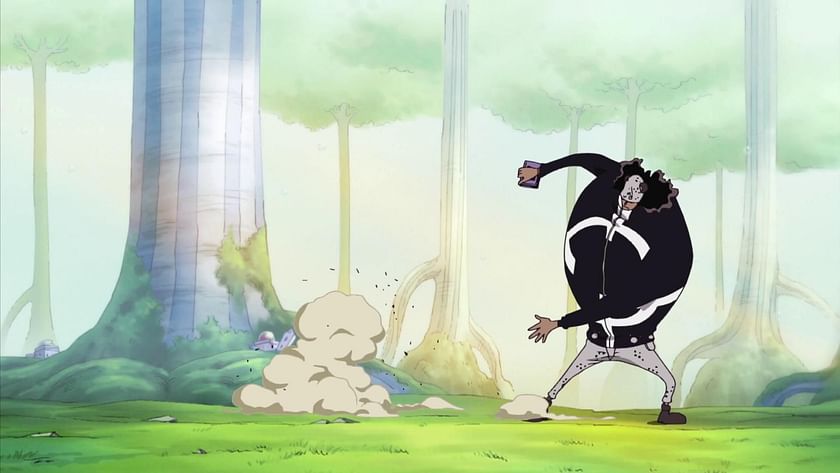 Two years after her kidnapping, Ginny contracts a mortal disease called Sapphire Scale. It's said to be a very rare disease, even more so than the Amber Lead Syndrome which Trafalgar D. Water Law contracted as a child. When patients come into contact with natural light, their skin becomes blue and hardens like a rock or a scale, hence the disease's name.
One Piece chapter 1098 then reveals that Ginny is eventually released after becoming unrecognizable due to the disease. In fact, the chapter allegedly doesn't showcase her face at all, instead simply having her speak offscreen for its entirety. Ginny allegedly then returns to the Sorbet Kingdom, leaving Bonney with the island's elders.
Ginny then heads to the church where she lived with Bartholomew Kuma, calling the Revolutionary Army from within. She says she really wanted to see everyone again, but says this is a farewell instead. Ivankov and Kuma are in shock, with the latter saying he thought he'd never see her again and that he'll immediately go wherever she is.
One Piece chapter 1098 sees the Revolutionary Army identify Ginny's location, allowing Kuma to go to the Sorbet Kingdom via his Devil Fruit powers. The spoilers claim that Ginny's last words to Kuma were that she loves him, but he didn't hear this because he was already teleporting to the Sorbet Kingdom. By the time Kuma arrives, Ginny is already dead, and he lays her to rest.
Kuma then decides to raise Bonney with the help of the elders, teleporting to help the Revolutionary Army from time to time. A montage of his activities with them can be seen, which includes his training a young Sabo.
However, Bonney begins to develop the Sapphire Scale disease too, prompting Kuma to leave the Revolutionary Army and take care of her. Dragon allows this and says he'll ask all the doctors he knows of if they can help Bonney.
One Piece chapter 1098 then sees Kuma decide that Bonney can't leave the church in order to avoid her exposure to natural light. Kuma begins bringing Bonney books to read about different islands, asking her where she'd like to go if she could travel.
The two are then seen living happily together as father and daughter. It's then revealed that Bonney got her Jewelry nickname due to her face having blue stones and Kuma calling her that.
The flashback then jumps ahead in time to six years prior to contemporary events, where Bonney is five years old. Kuma has talked with a doctor about her disease, who says that the disease will still get worse with age even though she never touched natural light.
It's revealed that she will die around 10, but an eavesdropping Bonney is shown to have misunderstood that she'll be cured when she's around 10 as she only heard this part of the conversation.
One Piece chapter 1098 sees Kuma conflicted, unable to tell her the truth due to having always promised her disease would one day be cured. The flashback then jumps one year forward in time, where King Bekori has returned to the Sorbet Kingdom and started to kill citizens. The chapter ends with people asking Kuma for help, also announcing a series break next week.
---
Be sure to keep up with all One Piece anime, manga, film, and live-action news as 2023 progresses.
Sportskeeda Anime is now on Twitter! Follow us here for latest news & updates.