After a few months of rest, BTS officially returned to the music industry with the single "Butter" on May 21. This is the second song they performed entirely in English, Butter's vibrant summer tune has received a positive response from the public. Fandom ARMY also enthusiastically supported the idol, helping BTS to achieve great results after 24 hours of a comeback.
MV Butter – BTS
Reaching 100 million views in less than 24 hours, setting an unprecedented record on YouTube
After 24 hours of release, MV Butter achieved more than 112.8 views displayed on YouTube, 8.6 million likes. If confirmed, Butter will become the most viewed MV in the first 24 hours globally, breaking the previous record set by BTS with Dynamite (101.1 million views).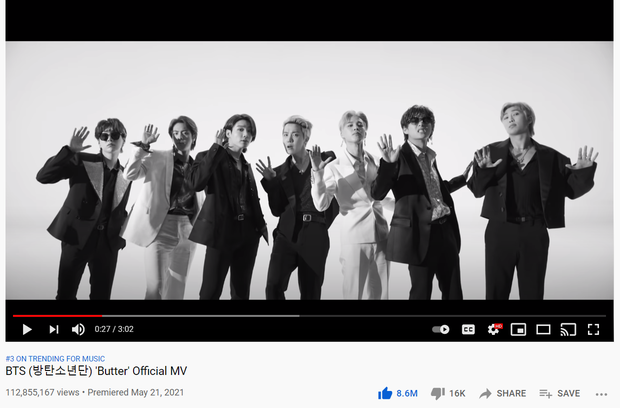 MV Butter views and likes after 24 hours
Not only that, Butter set a record as the fastest MV to reach 10 – 20 – 30 – 40 – 50 – 60 – 70 – 80 – 90 – 100 and 110 million views the fastest in YouTube history. Notably, BTS's new product only took 20 hours and 54 minutes to successfully conquer the milestone of 100 million views – far ahead of Dynamite's speed (it took 24 hours).
In addition, MV Butter also topped the global YouTube trending, winning #1 in 46 countries, including the US, кσяєα, UK, Vietnam, etc. YouTube also confirmed that this music video set a record of 3.9 million people watched the live premiere, breaking Dynamite's previous record (3 million).
BTS is holding the 1st and 2nd positions in the MV chart with the most premiere viewers. Currently, fans are just waiting for YouTube to officially announce the 24-hour view of MV Butter to be able to fully celebrate.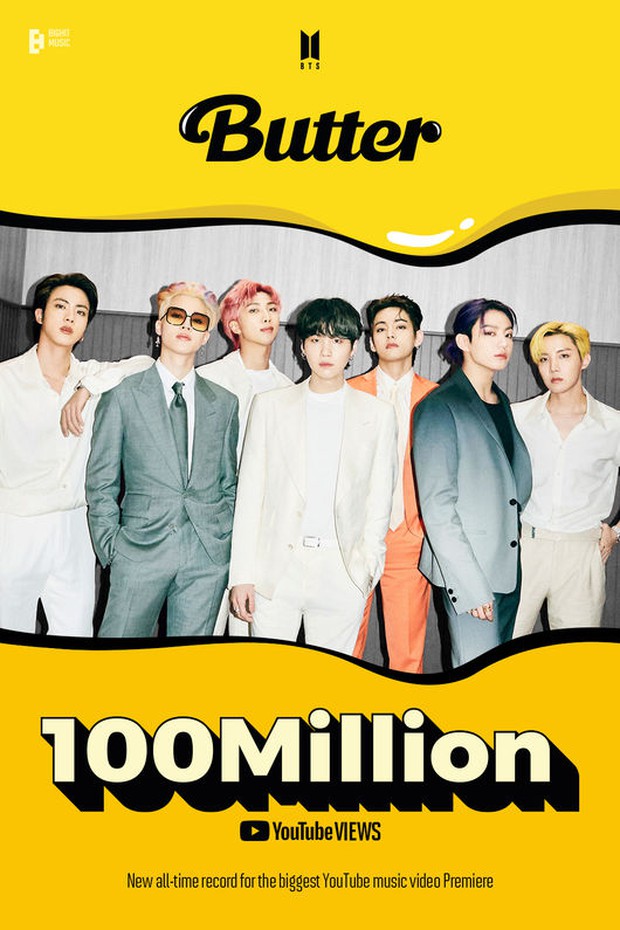 Poster to celebrate MV Butter reaching 100 million views and setting a record for the highest live broadcast in the world
"Destroy" the кσяєαn chart, setting a record for male Kpop artists in 2021
After 24 hours of the comeback, the song "Butter" won the All Kill title when topping Melon 24Hits, Genie, FLO and Bugs, and winning #1 on the iChart real-time chart. As a result, BTS becomes the first male K-pop artist to achieve this feat in 2021. Up to this point, 7 Big Hit boys, IU and Brave Girls are the only 3 artists who are All Kill real-time chart in the country Solder.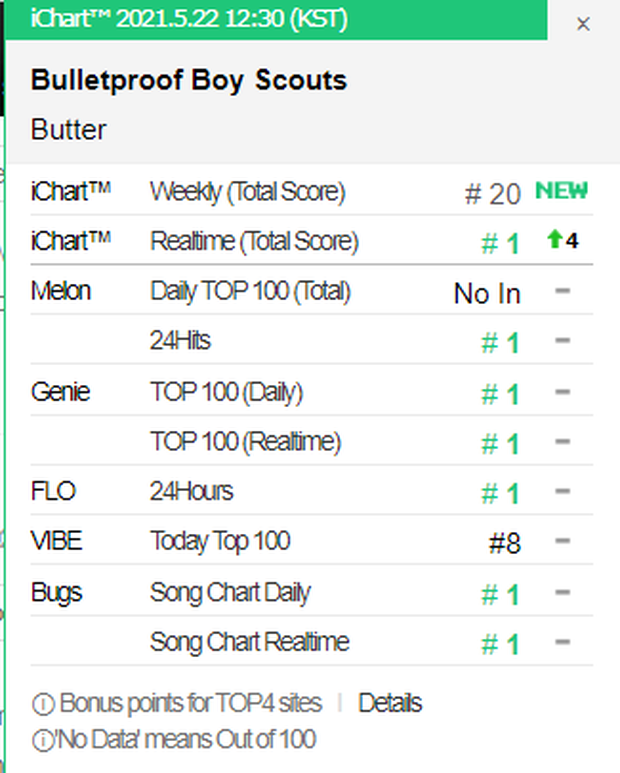 The song "Butter" achieved All Kill, topping the icChart real-time chart at 12:30 pm (KST) May 22
At Melon, the number of unique listeners after 24 hours of Butter's launch was 493,771 times. Thanks to that, "Butter" is a boy group song with the highest number of unique listeners in the first 24 hours since the 24Hits Melon chart came into operation.
This is an extremely positive achievement compared to Dynamite and Life Goes On. When BTS released Dynamite in August 2020, the song could not "clean up" the real-time chart in the first 24 hours. Life Goes On (11/2020) was stopped by… Dynamite at Melon 24Hits, so it didn't reach All Kill. With the current digital music situation, the possibility of BTS winning Perfect All Kill (PAK) with Butter is very high.
Butter quickly All Killed кσяєαn chart, on track to reach PAK
The achievements of iTunes and international charts are marvelous but have still not reached the target?
As BTS prepared for their comeback, fans aimed to top iTunes in 105 countries and territories on the first day. After 1 day of release, the song "Butter" won #1 in 101 countries and territories and was #1 on Worldwide iTunes Song Chart.
Although this achievement is extremely impressive, it has not reached the target as expected by fans. Although Butter's iTunes #1 нιтs are higher than Life Goes On's (#1 in 91 countries), it's less than Dynamite's (104 #1).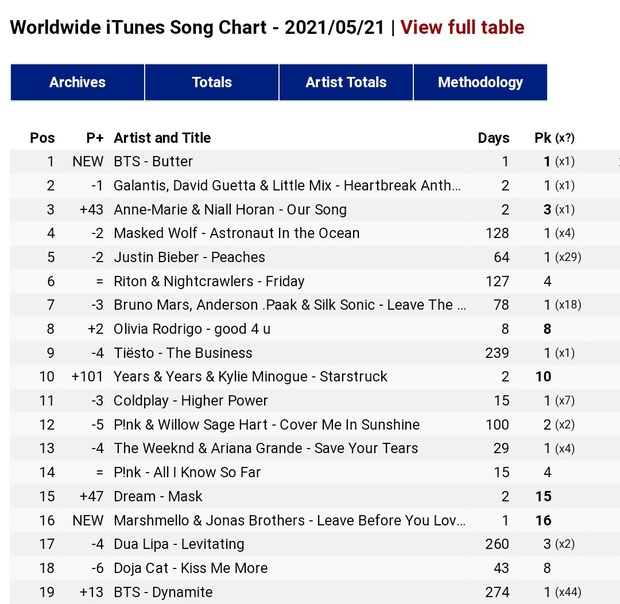 The song "Butter" topped the Worldwide iTunes Song chart (the worldwide iTunes songs)
On Apple Music, Butter ranked first in 9 countries. This song debuted at 6th place on the global Shazam chart, earning 289,973 shazams even though the fan set goal for the first day was 300,000.
Spotify has not updated the final figures yet, but according to a post by the CEO of Columbia Records at midnight on May 21 (Vietnam time), Butter at that time had 14,873,999 streams. However, this is an unfiltered number, so it is not clear if BTS can break the stream record on Spotify.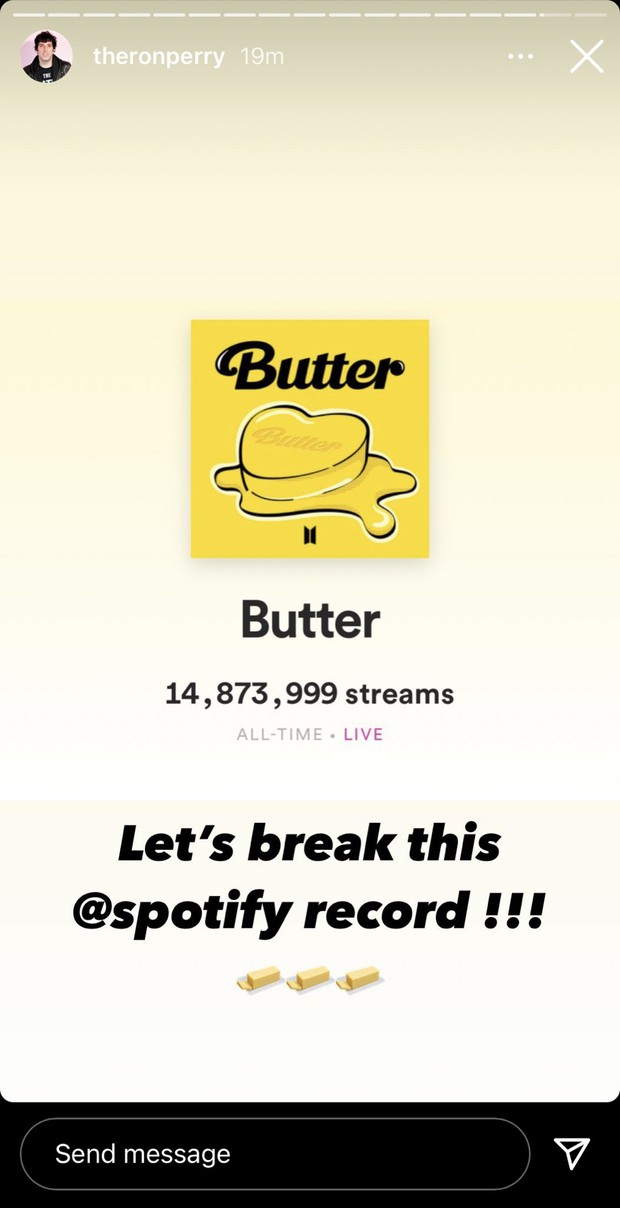 The CEO of Columbia Records posted the story at midnight on May 21, saying Butter reached more than 14.8 million streams with the message: "Let's break this @Spotify record!"
Ending
When BTS announced a comeback with Butter, many people doubted the ability of this song to break Dynamite's record. The super нιт that the group released in August 2020 made countless great achievements, especially on the "front" of YouTube, but Butter easily overthrew Dynamite's achievements.
Although the results on iTunes and Shazam were not as expected by fans, BTS is still far ahead of other Kpop artists and is a formidable competitor to the US-UK stars. ARMY will work even harder for Butter to set more impressive records soon, to debut on the Billboard Hot 100 and other important charts of the Billboard system.