When you list the greats of modern jazz, Chick Corea is right up there with Thelonius Monk, Herbie Hancock, Miles Davis, George Benson, the Marsalis Brothers, and … well, the list goes on.
Candid Records has released some of Corea's last live performances on the 3-volume vinyl and 2-CD The Future Is Now.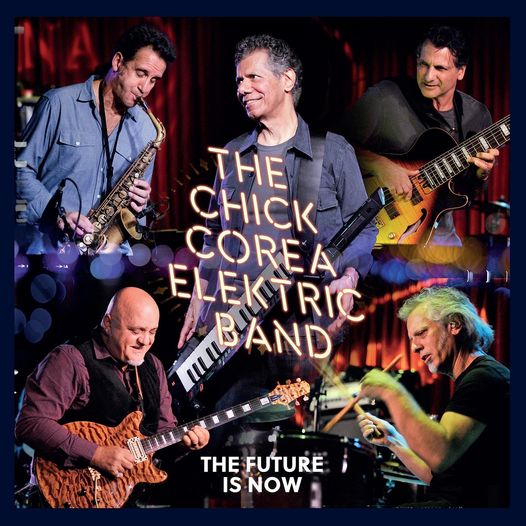 Corea was nominated over 70 times for a Grammy Award and won an astounding 27 times. He was also a National Endowment for the Arts Jazz Master. He founded the jazz-fusion Elektric Band in 1986. The original lineup, in addition to Corea on keyboard, consisted of Eric Marienthal on saxophone, Frank Gambale on guitar, John Patituci on electric bass, and Dave Wecki on drums. The band itself was twice nominated for a Grammy Award. 
The original members of the Elektric Band reunited early in the 21st Century and toured during 2016, 2017 & 2018. The Future Is Now features some incredible and previously unreleased live recordings captured during the band's tour stops during this time. Chick Corea himself compiled these tracks for the album before his passing in February of 2021.
Beginning with the lively "Charged Particles" through the somber and mysterious "Jocelyn – The Commander" to the joyful and exuberant "Got A Match," the performances transport the listener to another realm. The 3-volume vinyl LP and 2 disc CD adds to the legacy of an artist who has truly achieved legendary status. The release also features in depth liner notes from Corea and all of the Elektric Band members.
The Future Is Now follows Candid Records September 15, 2023, release of Sardinia, another album of previously unreleased live recordings. Sardinia features Mozart's Piano
Concerto No. 24, and George Gershwin's "Rhapsody In Blue." Corea recorded that album while performing with the Orchestra da Camera della Sardegna under the direction of conductor Simone Pittau in Sardinia, Italy, in 2018.
The release of both The Future Is Now and Sardinia is in keeping with Candid Records legacy of making available quality music. Candid will further honor Chick Corea and the Elektric Band by releasing the band's original five albums as a box set. The Complete Studio Recordings 1986-1991 will be available on December 1, 2023.