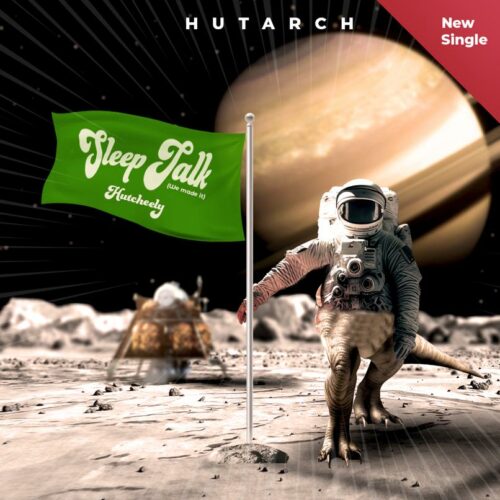 London-based Nigerian Rap artiste, HutCheely (real name Henry Okafor), is set to make a resounding debut in the music industry with his scintillating rap masterpiece titled "Sleep Talk (We Made It)." After years of contemplation and honing his craft, HutCheely is ready to take the world by storm with this compelling and introspective track.
"Sleep Talk (We Made It)" is a song that emerges from HutCheely's personal journey, reflecting on the highs and lows of his career from its inception to the present moment. This introspective piece resonates with audiences of all backgrounds, as it encapsulates the universal theme of achieving success after overcoming adversity.
Henry Okafor, the talented artist behind HutCheely, is not only the performer but also the creative force behind the song. His lyrical prowess and unique storytelling abilities shine through in every verse, making "We Made It (Sleep Talk)" a must-listen for rap enthusiasts worldwide.
The song's production is equally impressive, with Jeremy Oliver at the helm. Oliver's skilful production work complements HutCheely's powerful lyrics, creating a track that is bound to leave a lasting impression on listeners.
"Sleep Talk (We Made It)" is poised to make waves in the music industry, marking the beginning of HutCheely's professional career. It serves as a testament to his dedication, talent, and determination to succeed in the competitive world of rap music.
Listeners can anticipate an unforgettable musical journey when they press play on "Sleep Talk (We Made It)," as HutCheely invites them to delve into his personal experiences and celebrate the triumphs that follow perseverance and hard work.
Stay tuned for the official release of "We Made It (Sleep Talk)" by HutCheely, a rap artist whose star is on the rise. This debut track promises to captivate rap enthusiasts and music lovers alike, leaving them eager for more from this promising artist.
Stream "Sleep Talk (We Made It)"
https://streamlink.to/Hutcheely-Sleeptalk
Connect with HutCheely:
Facebook | Instagram | TikTok | X (Twitter) | YouTube
Lyrics:
What's it you want me to prove, lately I've been on the moves
I've been on cage for way too long but sorry I'm letting it loose
The flows are good, maybe they making you look, like you're high on a booze
Feeling the groove, you wanna pull off the roof, that's your choice
I ain't got time for no BS, playing the game like it's PS
Way ahead of my peers, always deliver for sure, no CS
I've got my highs and my lows, but still got my eyes on my goals
City to city I'll make you to feel it, you waiting to see how it goes
What's it you want from a nigga, surely you're taking a piss
Soon I'll be making it bigger, all I do is handle my bizz
I've got a crest of my sneakers, yea you should know what that means
Hoodie on top of the jeans, I got the same for the team
We party hard in a limo, little bit tipsy highly illegal
Feeling so fly like an eagle, they got some swag but we got it triple
My music making you giggle…… sweet in the middle
She wanna be on my video saying my music is boosting her libido
We made it, We made it
We made it, we made it you know it
So go tell your your mother , your father, your brother, your sister we made it
City to city, we go so hard for the Milli
We go so hard for the Milli, sooner or later we go for billi
Keeping it real, I got my mind on my money
Mind over muscle and game over hustle and now the table is turning
Step in the hood, that's where you know how we role
You should be happy we made it (2ce)
Lyrical, spiritual, musical flows I'm about to be invincible
Breaking the jinx and that's how it goes, i feel like I'm living in Jupiter
Tell them I said it, they owe me the credit, don't mind if you call a criminal
They see my song is selling na I put them all in dilemma
Proudly an African Nigerian see the flag on my cardigan
Fighting for power like Taliban, me and my men we be moving like the Caravans
Thousands of pounds in my NatWest, some are in Lloyds and Halifax
After the taxes, pull up the net disturbing the peace like radicals
They say we moving too fast, we still be running the tracks
We just been filling the gaps, put in the works and getting the bags
We keep on going for more, they say we ain't going too far
Eyes on goal, we digging the gold Alhamdulillah
Press the button money calling we going so Global like we teleporting
Pretty girls on my dm saying I'm so loving, but I'm always trading with caution
Local boy going foreign, hitting targets like am Jordan
Five-star cos it's all or nothing, so we party hard to the early morning
We made it, We made it
We made it, we made it you know it
So go tell your father, your mother, your brother, your sister we made it
City to city, we go so hard for the Milli
We go so hard for the Milli, sooner than later we go for billi
Keeping it real, I got my mind on my money
Mind over muscle and game over hustle and now the table is turning
Step in the hood, that's where you know how we role
You should be happy for us my nigga, we made it, we made it
Lyrical, spiritual, musical flows I'm about to be invincible
Breaking the jinx and that's how it goes, i feel like I'm living in Jupiter
Tell them I said it, they owe me the credit, don't mind if you call a criminal
They see my song is selling na I put them all in dilemma