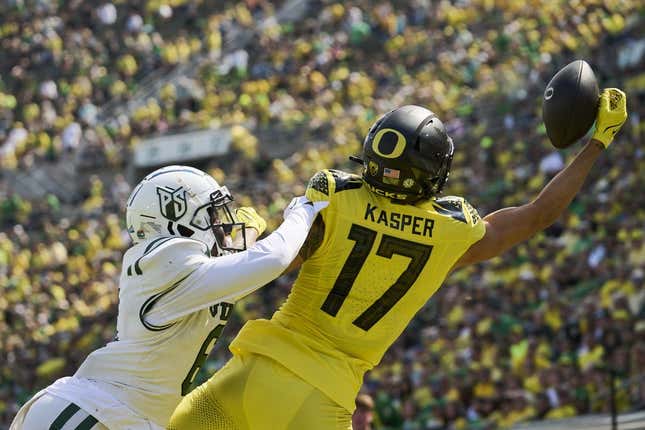 Bo Nix threw for three touchdowns and Jordan James rushed for three more as No. 15 Oregon started its 2023 campaign off strong, sprinting past in-state FCS foe Portland State for an 81-7 victory in Eugene on Saturday.
Has Bill Belichick lost his touch? | Agree to Disagree
Nix completed 23 of 27 passes for 287 yards, doing his part to lead Oregon to the win. James covered 86 yards with 10 carries, while Bucky Irving Jr. rushed just four times for 119 yards and two scores.
Through the air, Troy Franklin Jr. hauled in seven catches for 106 yards and two touchdowns, and Gary Bryant Jr. put up a similar line with seven catches for 100 yards and two scores. It's the first time
Oregon has had two players notch more than 100 receiving yards in a single game since 2014 when Darren Carrington and Charles Nelson topped the mark against Arizona.
Oregon had 729 yards of total offense. The dominant performance marked the first time the Ducks' offense gained more than 700 yards since a win over Southern Utah in 2017. It's also the most points
Oregon has scored at home since Autzen Stadium opened in 1967.
The Ducks opened the scoring with Nix capping off a seven-play, 66-yard drive by finding Franklin for a 13-yard touchdown. Portland State responded quickly, piecing together a nine-play, 75-yard drive that ended with Dante Chachere finding Chance Miller for a 9-yard score.
But Portland State had trouble generating offense and sustaining drives from there. As Oregon piled up the points, the Vikings never answered. Portland State had seven drives that went three-and-out.
Oregon punted on just one of its 13 drives; the other 12 ended with scores.
Oregon has now won 69 straight games when holding its opponent to 14 points or less.
The schedule will get a bit more challenging for the Ducks next Saturday, when they travel to Lubbock, Texas for a nonconference clash with Texas Tech.
Meanwhile, Portland State is set to play a second straight FBS opponent, traveling to Wyoming.
—Field Level Media