RED VELVET finally arrived with a third studio album 'Chill Kill' on November 13 and to say that everyone is excited would be an understatement. The title track of the same name is an upbeat pop dance number with a spooky music video in true RED VELVET fashion.
To make things better, the girl group embraced elements of punk and emo in their styling for the video to match the dark ambiance. Let's check out the outfit choices below.
RED VELVET's 'Chill Kill' MV Fashion
Please note: This post contains affiliate links to products we trust and recommend. If you choose to purchase a helpful product using these links, we may receive a small commission for referring you – at no extra cost to you. These funds help us keep this blog up and running.
Yeri's Look #1
At the very beginning of the video, Yeri wore a heart panel baby tee from MARC JACOBS with a black pleated mini skirt from Prada for a simple look that featured a hint of rebellion.
Yeri's Look #2
She then changed into a light blue sheer-coverage knitted dress from CORMIO and sported a blue pattern knit earflap beanie from LMC.
Irene's Look #1
Irene styled a pink and brown micro cardigan with a coordinating rib knit camisole and heart scallop mini skirt, all from GUIZIO, for a cute pastel outfit that stood out against the dark backdrop.
Irene's Look #2
In another look, she went with a white knit off-shoulder sweater from GUIZIO and accessorized with a fluffy triangle ivory balaclava from THETIS.
Irene's Look #3
Irene donned a rose-patterned white mini skirt from THETIS with two footwear options. In one scene, she mixed the look with a sleek pair of lilac satin platform boots by MARC JACOBS, and in the final choreography scene, she wore black and white double stack cracked-effect leather boots from R13.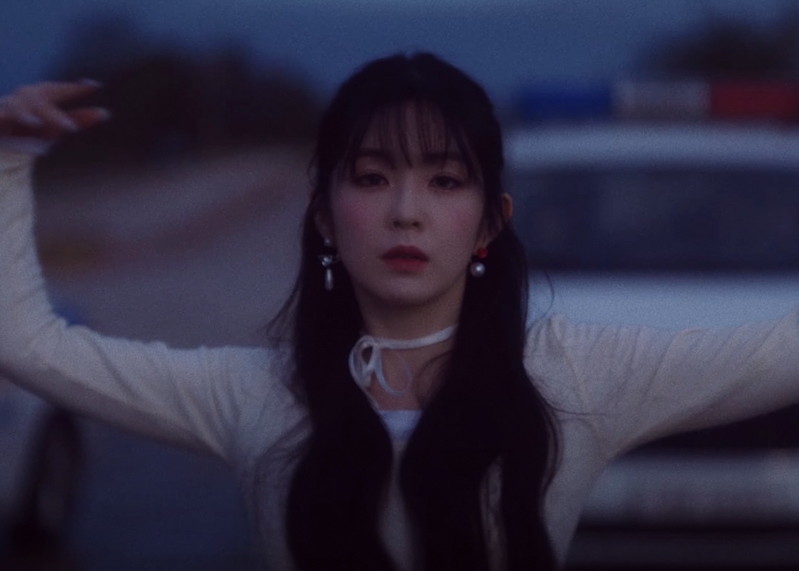 Wendy's Look #1
Wendy channeled the essence of the emo aesthetic in a graphic print blue slit tee from GYEONG elegantly paired with an edgy dark denim and pleat combination mini skirt from Current Mood.
Wendy's Look #2
Going for a different look this time, Wendy showcased a delicate style in a cream shade hand butterfly knit crop top and an ivory lace cotton-blend skirt, both of which are from THETIS.
Wendy's Look #3
Here, she combined a yellow jacquard check pattern vest from Marni with a pleated mini skirt to achieve a preppy look. The outfit was further elevated with a playful twist, courtesy of graffiti print double grommet flatform sneakers from R13.
Joy's Look #1
Joy's incredible look is made up of an artwork motif shrunken ringer baby tee by MARC JACOBS layered over a cropped ribbed cardigan of the same brand, complete with a punk-inspired high-waisted black tulle mini skirt from Widow with hanging grommet straps.  
Joy's Look #2
She exuded grace in an ivory ruffled-trim woven midi dress by HOUSE OF SUNNY.
Joy's Look #3
Joy's multicolor printed long-sleeve T-shirt from GUIZIO is the highlight of her outfit in this scene.
Seulgi's Look #1
In a final stunning look, Seulgi effortlessly pulled off a showstopping blue rib knit mini dress from PRAYING with a beige Apice beanie from MAX MARA.
Seulgi's Look #2
If you like this post, share it with a friend who might like it as well. And don't forget to follow our Facebook Page for more news on Korean fashion & beauty!