In a surprising turn of events, Sam Larry has finally broken his silence regarding the alleged assault on Nigerian music sensation, Mohbad. The videos that have been circulating online recently are from last year, according to Sam Larry, who made his statement while in hiding.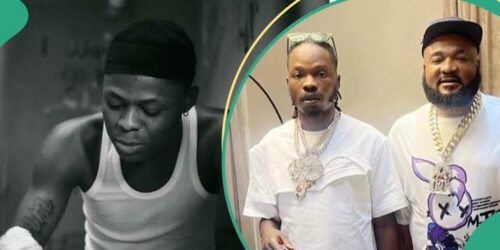 In the video, which has quickly gone viral, Sam Larry can be heard explaining that the controversial videos, which depict him engaging in a physical altercation with Mohbad, are actually from 2022.
It seems that the two artists had a heated disagreement at that time, which led to the unfortunate incident.
However, Sam Larry was quick to emphasize his deep affection for Mohbad, assuring the public that he would never harbor any harmful intentions towards his fellow artist. This declaration of love and goodwill has sparked conversations and debates across social media platforms, with fans and followers expressing a mix of relief and curiosity about the circumstances surrounding the altercation.
While the exact details of what transpired between Sam Larry and Mohbad remain unclear, this statement suggests that there might be more to the story than what initially met the eye. The revelation that the videos are from last year adds an intriguing layer of complexity to the situation, leaving many wondering about the events that led up to the dispute and the subsequent fallout.
As the news continues to unfold, it is essential to remember that legal authorities may need to investigate the matter further to ensure justice is served. In the meantime, fans and observers are left to ponder the dynamics of the music industry and the relationships that exist within it.
This unexpected revelation from Sam Larry serves as a reminder that there are often multiple sides to any story, and it highlights the importance of not rushing to judgment without a complete understanding of the facts. The truth behind the alleged assault on Mohbad may still be a mystery, but with Sam Larry now having come forward to share his perspective, the conversation surrounding this incident is far from over.