Rhythm and blues-influenced soul music has been a staple of American culture for nearly seventy years, yet one of the best bands to master its sound today hails from Australia. Formed in 2008 by brothers Josh Teskey (vocals, rhythm guitar) and Sam Teskey (lead guitar), The Teskey Brothers have returned to North America to headline shows for the first time since the pandemic. Their absence from these shores for so long has been sorely missed, but the payoff was immense.
Supporting their third studio album and latest release, The Winding Way, the brothers recently stopped in Chicago to play the historic Riviera Theatre. They delivered a passionate and emotionally-charged set that dripped with the sweet soul sounds that permeate the veins of cities such as Philadelphia, Memphis and Detroit. Those sounds easily seeped into the pores of the sold-out crowd who arrived energized and eager for what The Teskey Brothers were about to deliver, but who likely left emotionally spent from the intense feelings of love, loss and survival that epitomize the brothers' songs.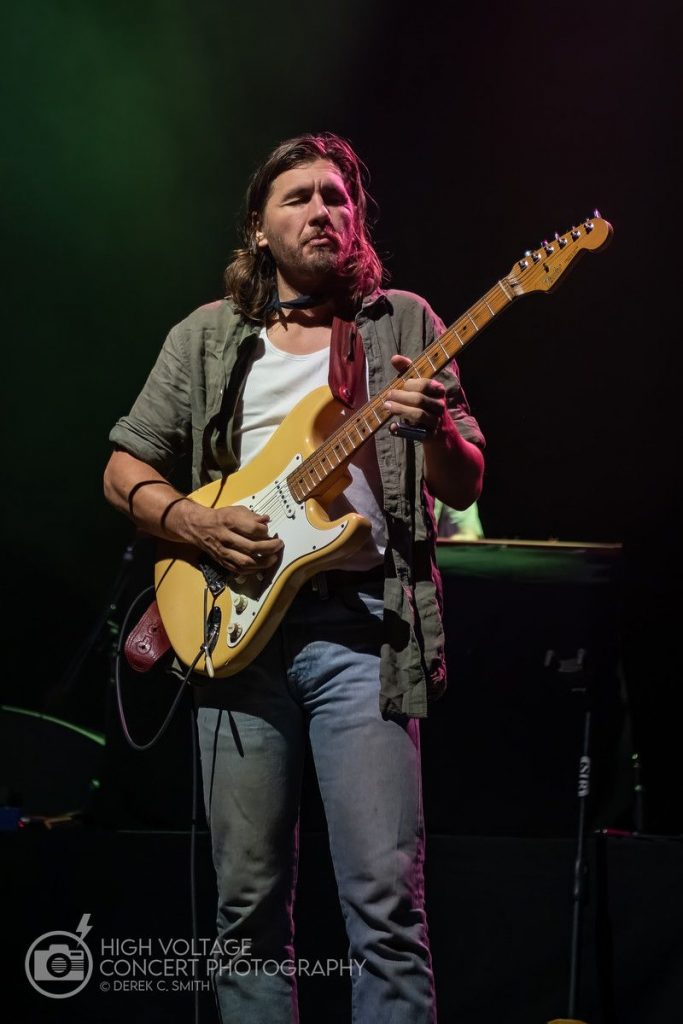 The emotional rollercoaster began immediately with "Remember The Time" from The Winding Way, a song that recalls the good times of a relationship while struggling through the bad.  The brothers followed with "Carry You" from their 2019 release, Run Home Slow. It's a song of support – about letting others know that pain is not a weight that needs to be carried alone.  They then returned to The Winding Way with "Oceans of Emotions," another song about the ups and downs of relationships and the importance of surviving those waves without "running out any time soon.
The set continued with "I Get Up," a song from their debut album, 2017's Half Mile Harvest which laments the struggle to keep getting up when you always seem to be getting knocked down. From there, the brothers returned to Run Home Slow with the songs "Rain" and "So Caught Up," the latter of which peaked at No. 10 in 2019 on Billboard's Adult Alternative Airplay chart.
The brothers rounded out the set with several more from The Winding Way ("Carry Me Home," "I'm Leaving" and "What Will Be"), a cover of the Ray Charles song "Drown in My Own Tears," and "Paint My Heart" from Run Home Slow. They encored with "Pain and Misery" from Half Mile Harvest and "Hold Me" from Run Home Slow.
There were several great songs that failed to make the cut in Chicago, particularly those from Half Mile Harvest (check out "Crying Shame," "Shiny Moon" and "Louisa"), but perhaps the most ironic omission was "This Will Be Our Year" from The Winding Way. Although not a song about the brothers' musical journey itself, it could easily apply if the crowds in Chicago are any indication of the reception the brothers will receive elsewhere on their tour. If those crowds continue, the Teskey Brothers will know soon enough that 2023 was their year.
The Teskey Brothers are continuing their North American tour through October.  For more information on dates, check out their website here.
Opening for The Teskey Brothers in Chicago was Minor Gold, a fellow band from Australia comprised of Tracy McNeil and Dan Parsons whose Americana-folk harmonies could easily be mistaken for a band from late '60s or early '70s California. Their self-titled debut album is out now and is a testament to the power of subtly that is often lost in today's over-produced quest for stardom.  
Minor Gold – both the band and their album – are a breath of fresh air, standing on the merits of their songwriting and chemistry to deliver a beautifully refreshing collection of songs that further solidifies the importance of never missing an opening act. For more information on Minor Gold, including their album and remaining tour dates, check out their website here.
All images: © Derek Smith / High Voltage Concert Photography for American Blues Scene