There is a big possibility that Joe Burrow fantasy owners also have CJ Stroud. Earlier in the year, Burrow looked like a shell of himself, so many took to the waiver wire. That's where Stroud was waiting, and many have the decision between the two to make this week. Here's what we think on the matter.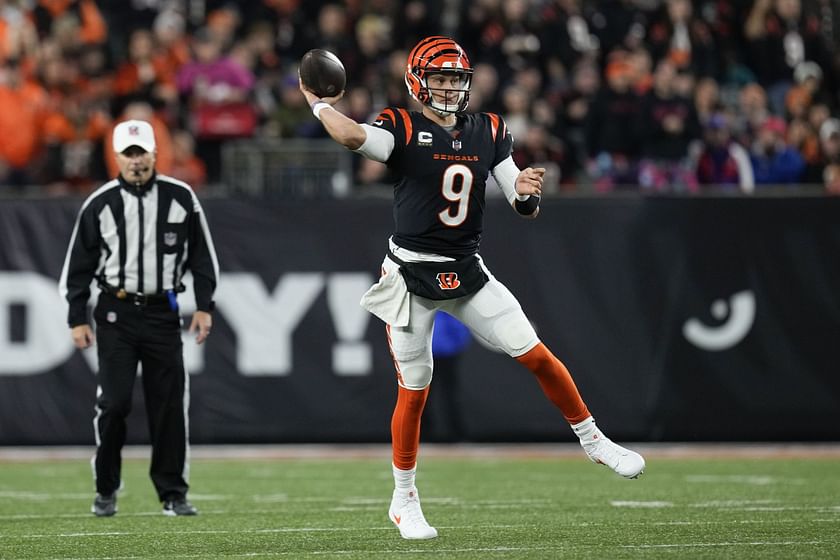 ---
•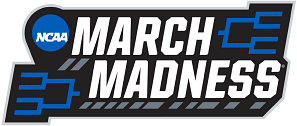 Is Joe Burrow a good pick in fantasy football?
Joe Burrow is turning into a very good pick. Those who drafted him early are finally reaping the rewards. Whether it was rust or the calf injury he sustained, things looked bleak in Cincinnati earlier this year. That was especially true of Burrow, who struggled mightily.
He has significantly turned it around, and he's bordering on start status regardless of who his matchup is. This week, Burrow is facing the 19th quarterback defense in fantasy. That certainly bodes well for a good game. This defense struggled to slow down Bryce Young, so Burrow is a good pick.
When it comes down to it, the simple fact of the matter is that Burrow has exceptional weapons on offense. Ja'Marr Chase and Tee Higgins have a case to be the best wide receiver duo in the NFL, and that's tough on a secondary.
Demeco Ryans is a good defensive coach who has his defense in the right spot a lot of the time, but that may not matter against Cincinnati. Look for Burrow to shine bright this week.
---
Is CJ Stroud a good pick in fantasy football?
CJ Stroud is becoming a must-start entity. He torched the Tampa Bay Buccaneers last weekend for all sorts of records, including 470 yards and five scores. That makes him arguably the hottest hand in all of football. It's definitely safe to continue riding him.
He has a full cadre of weapons to throw to. Tank Dell is back and healthy, and Dalton Schultz and Nico Collins are proving to be excellent players. That all suggests that Stroud's momentum won't be slowed.
He gets to go up against the 20th fantasy defense in terms of quarterback scoring. That's a pretty favorable matchup, and it likely means that he's going to continue playing very well this weekend.
Stroud is having one of the best rookie seasons of all time, and there's really very little reason to put him on your bench at this point. Regardless of which game, he's a pretty good fantasy football pick.
---
Should I start Joe Burrow or CJ Stroud in fantasy football?
Our analyzer says that Burrow will have the better game. They expect a little more output from Burrow, who gets to face the defense that was just torched for 37 points by Baker Mayfield and company.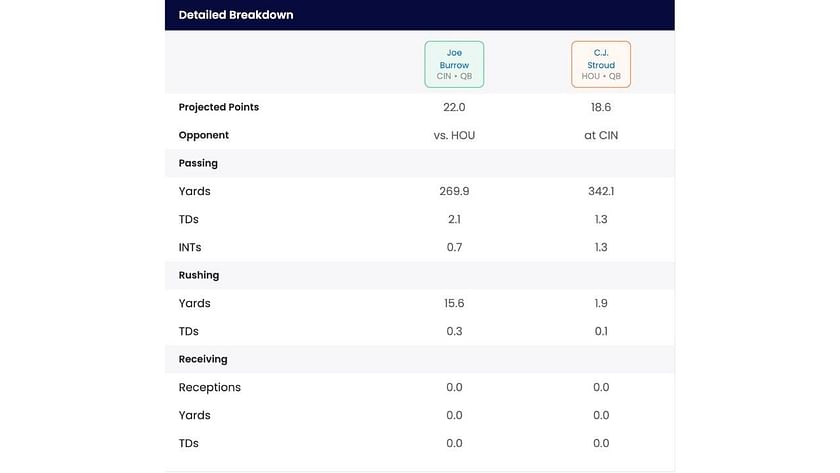 The Texans defense and Bengals defense have been basically the same this year against the quarterback. Thus, it comes down to the QBs themselves. Burrow is a slightly better player than Stroud at this point, and he is completely healthy.
The weapons matter, too. As great as the trio of Schultz, Dell and Collins is, it's no match for Higgins and Chase. That makes it a much easier decision to make. If you're wondering between these two players, go with Burrow.
Edited by Zachary Roberts