STRAY KIDS just made a grand comeback with their aptly named extended play 'Rock-Star' and we are all here for it. The group not only flexed their quintessential energetic sound in the title track 'Lalalala', but also proved their tendency to surpass expectations. The catchy rock-inspired song is accompanied by a cinematic music video where the group embodies underwater pirates, tuning in to sharp choreography on board the remains of a sunken shipwreck.
But we must say that STRAY KIDS' creatively modern fashion as pirates was the highlight of the music video. So, don't miss out on the outfits showcased by the group in the video, and keep reading to find out the details.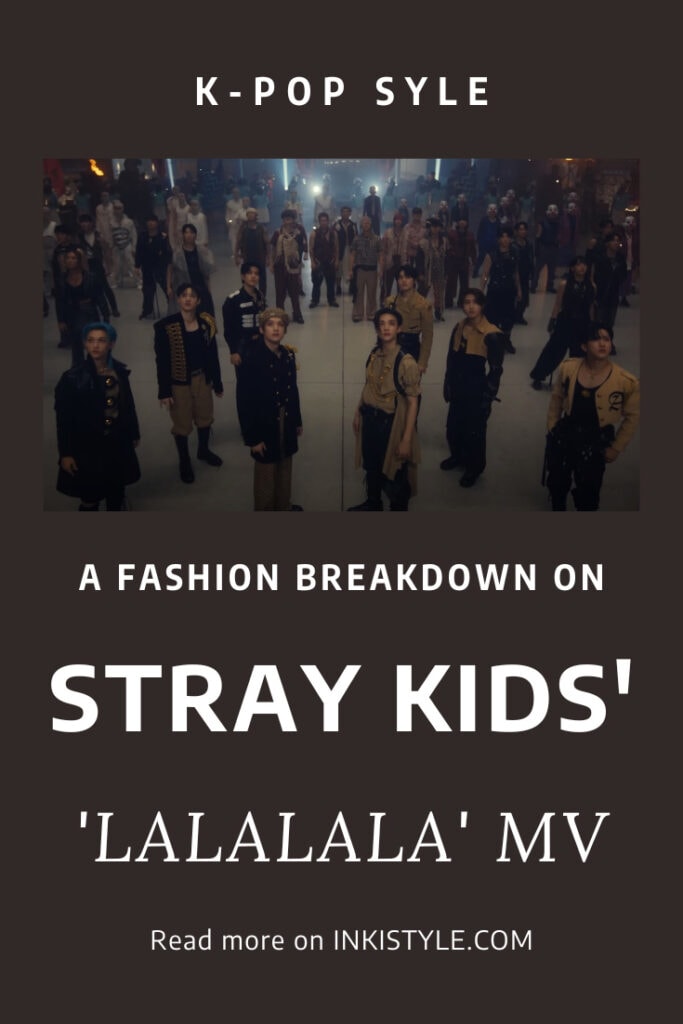 STRAY KIDS' 'LALALALA' MV Fashion
Please note: This post contains affiliate links to products we trust and recommend. If you choose to purchase a helpful product using these links, we may receive a small commission for referring you – at no extra cost to you. These funds help us keep this blog up and running.
Hyunjin's Look #1
In his first look, Hyunjin put an effortlessly stylish spin on the rugged aesthetic with his multicolor D-Roku denim coat from DIESEL.
Hyunjin's Look #2
While Hyunjin made a jaw-dropping pirate in this ideal black-and-white outfit, his dark khaki logo ribbed headband from LECYTO completed the ensemble.
Han's Look
In what can only be defined as a true style statement, Han boldly rocked a grey cut-out detail knitted jumper from Diesel to go with baggy denim pants.
I.N's Look #1
I.N had fun in a high-shine finish blue denim jacket paired with knee-length cropped straight-leg jeans, all from Diesel. He jazzed things up by wearing a vibrant VETEMENTS iconic-logo leather choker.
I.N's Look #2
This cream canvas tough vest from Our Legacy is a sophisticated form-fitting contrast against his black poet blouse.
Felix's Look
Felix was a vision in a leather accent snap button coat from Louis Vuitton.
Lee Know's Look #1
Amidst all the chaos, Lee Know's graphic print white T-shirt from VIVASTUDIO and quirky storm lace-up combat boots from Alexander Wang caught our attention.
Lee Know's Look #2
He then stepped straight out of a pirate art in his beige GG monogram Gucci straight-leg trousers.
Bang Chan's Look
Bang Chan went with an ombre faded blue distressed ribbed-knit cardigan and light blue multiple-pocket drawstring jeans, both from Diesel, for a coordinated yet edgy look.
Changbin's Look
As for Changbin, he sported a relatively toned-down look in a blue and black Skater graffiti logo-print T-shirt from Balenciaga.
Seungmin's Look
In a similar look, Seungmin's comfortable Balenciaga ensemble consisted of a blue and black skater tie-dye hoodie styled with matching track pants.
If you like this post, share it with a friend who might like it as well. And don't forget to follow our Facebook Page for more news on Korean fashion & beauty!