A young Nigerian gentleman, @xbankzdmw, who takes great pride in his resemblance to Davido and consistently shapes his content around the singer, sparked quite a response with a recent video featuring his girlfriend, who also proudly shares facial similarities with OBO's wife, Chioma Rowland.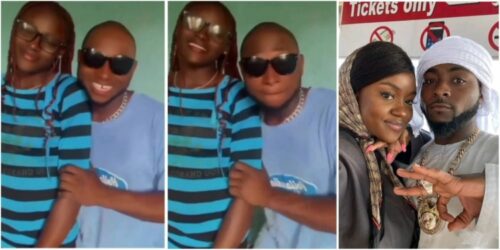 Famous blogger Tunde Ednut stumbled upon a video of this passionate young couple, who are ardent admirers of Davido and Chioma Rowland, and shared it on his page.
In the video, XbanKz attempted to emulate Davido's mannerisms, playfully turning his head and licking his lips as he cozied up with the Chioma Look-alike. Together, they skillfully mimed and passionately grooved to Davido's "Assurance" song dedicated to his beloved wife.
SEE VIDEO BELOW
Tunde, when he posted that intriguing clip, beckoned fans to weigh in on whether the couple truly resembles Davido and Chioma Rowland.
Tunde Ednut wrote;
"What do you guys think? Comment below respectfully. CAN YOU SEE THE RESEMBLANCE?"